The Nor Cal Tripawds crew finally got together again on Saturday February 12th at the dog park in Mill Valley California.  It was a spectacular day- clear, sunny and unseasonably warm.   It has been several months since we have been able to meet up, and this time we got to welcome two new tripawds.  Well, actually they are not new tripawds, just new to us.  We welcomed Sam and Bailey with official Tripawds Rule bandannas!
Sam has been living as a tripawd and beating OSA for more than 37 MONTHS!!  Diane met Sam and his dad Keith in a dog park and sent him back to Tripawds.  Here is Sam: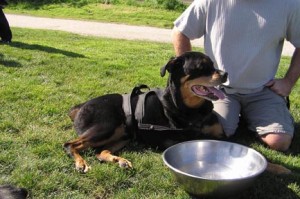 We also met Bailey and his pack- Trish and John?- sorry I'm good with dog names- don't always remember the two leggers!.  In my defense I went to a human B-day party after the Tripawd meet up and met a bunch of new people… of course I don't remember their names either.  But I digress, here is Bailey who had his amp last July (I think):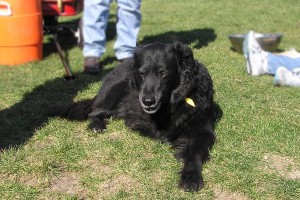 Shelby the PP was there with her attendants and Cemil and mom came too.  I was there with the quads Tani and Obie.  Obie is still really shy, and stays pretty much glued to my ankle.  Tani greeted all the humans, and made sure that the treats were distributed fairly.
This is as close as we got to a tripawd group photo. You can just see Shelby behind the maid on the left, Cemil in the middle, Sam behind Cemil, and Bailey is on the upper right: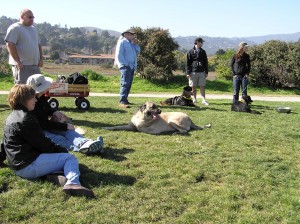 Shelby was at her Petit Princes self, greeting everyone and stealing the occasional tennis ball.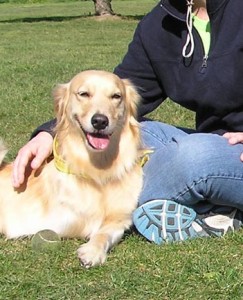 Cemil wandered all around the park, meeting all the people he could.  The rest of us stay pretty close to our meeting spot.
The group, including Tani: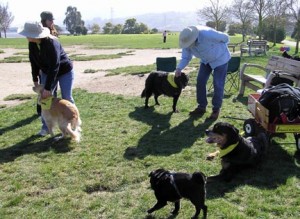 But where is Cemil?  There he is- waaaay across the park: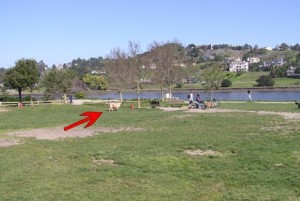 Poor guy wore himself out wandering around.  But he still attracted fans: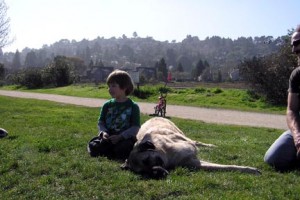 Here are the new guys saying hello to each other: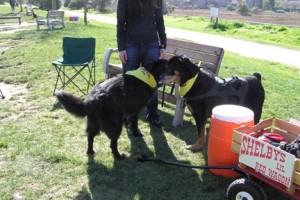 Obie didn't show up in the group photos because he is always right next to me.  He went to sleep in my lap after awhile. Being really shy takes a lot out of a guy: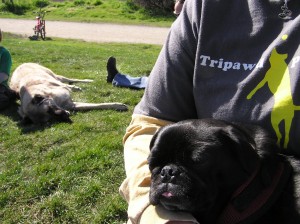 Can't wait for next month!!