Merry Christmas 2013, here is the 13th edition of the Pug Christmas Card. I decided to do celebrate the first 12 years of pug cards. I wanted to work in a tie to the 12 days of Christmas but I couldn't come up with anything so I  did a collage.
CHRISTMAS PAST
I brought Maggie home in the spring of 1999.  Tani, Mag's little sister came into our lives in the spring of 2001.  So for Christmas 2001 I thought it would be fun to do a Pug Girls Christmas Card.  Well, trying to get two pug pups to sit still was quite a chore.  And forget having them in costume or even a hat, once I got something on one of them the other would attack and help get it off.  So with the magic of PhotoShop I produced my first card.  It was fun and got lots of oohs and aahs.  Year two I went with a theme, but still lots of PhotoShop.  After a few years the novelty wore off a bit and now it was becoming a bit of a chore- just when I thought I would quit someone would say "I can't WAIT to see your card this year!".
When Maggie lost her leg in September of 2006 I wasn't sure there would be a card in December.  But she made it that far and I even put in a couple of tripawd jokes.  According to the prognosis that would have been her last card, but there were to be 3 more Pug Girls cards, Maggie's last Christmas with us was 2009.  Obie joined the pack in the summer of 2010 and made his Christmas card debut the same year.
2001, The first card.  EVERYTHING is PhotoShopped!, I think I even had to give Tani a different face!  And notice the expressions- that is from tempting them with a treat to look at the camera- you will see that same intense look in several cards.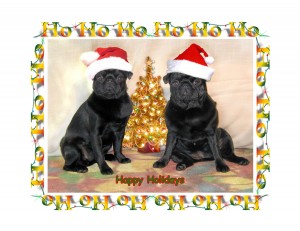 2002,  the first theme.  On the inside it said "and a partridge in a pear tree".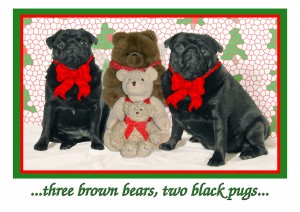 2003, third card, but the same look in their eyes…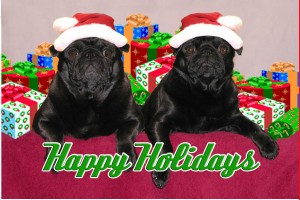 2004, we near copyright infringement, but since I wasn't selling or making a profit I thought it was OK.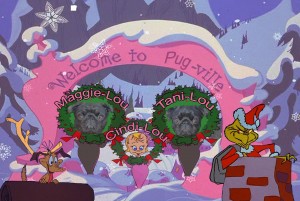 2005, I can't remember what happened, but obviously I didn't get a good picture of them.  This is a pug girls logo I used a few times, and the basis for the 'Mag Tag'.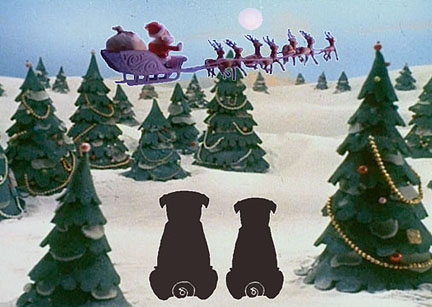 2006, 3 months after Maggie's amp.  So three paw prints on the bed, and she is dreaming of a drumstick… which is what we called the pugs back legs when they were gnawing on each other.  Tani is dreaming of squirrel, her favorite toy.  This is squirrels first appearance.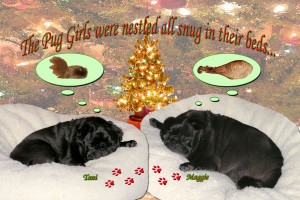 2007- I had to make the girls bigger so they would show up in the scene, they are not really that big.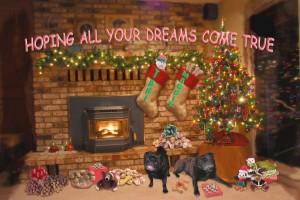 2008- I had knee surgery on Dec 1st, and though it would be a quick recovery like the others.  WRONG.  So I had to resort to scanning old pictures.  That is me at 1, and each of the girls are as close to 1 as I could find.  Maggie is on the left, Tani in the front, it is amazing how black they were when they were young.  You have to love Photo Shop!  Oh- and I had to tell everyone that my mom knit the sweater I was wearing!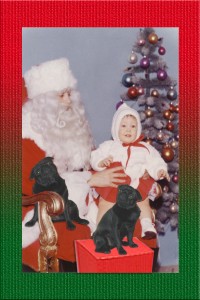 2009- What would turn out to be Maggie's last Christmas with us.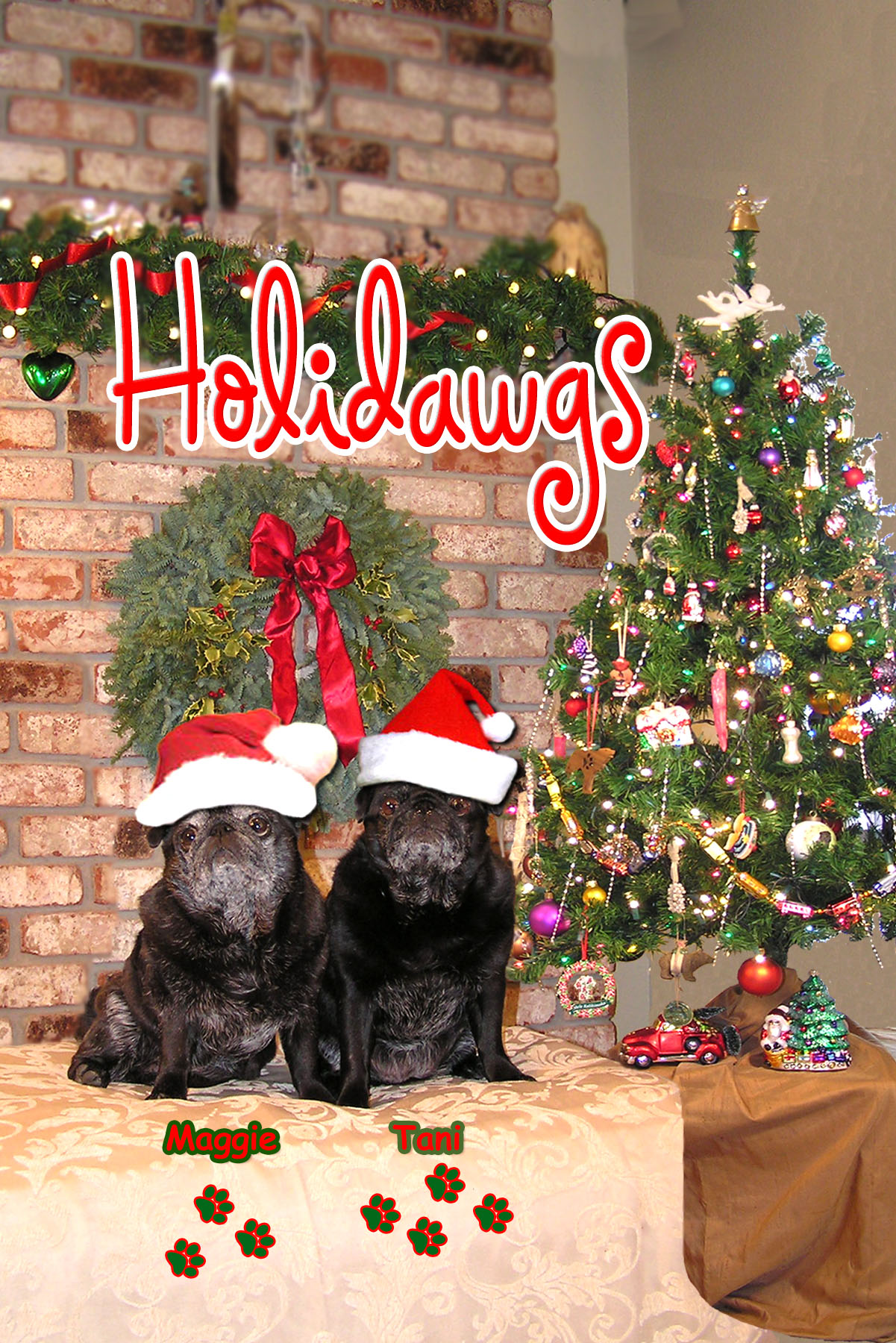 2010- Obie's first Christmas with us.  Tani is on the left, Obie on the right.  Ton's of photoshop again this year.  Tani's pal squirrel makes another appearance, sitting in front of her.  And Mr. Bill debuts with Obie.  Maggie is represented by the capital 'M' with angel wings and 3 paw prints on the front of the sleigh, and on the inside by the three paw prints turned slightly up.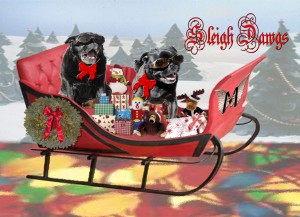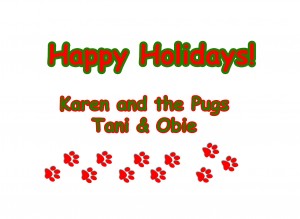 2011.  Tani is on the left, Obie on the right.  The black bear on the left, Farley, is holding Tani's favorite toy, squirrel.  I've had Farley at least 30 years! Down right is Mr. Bill, Obie's favorite toy and security blanket.  Maggie is represented 3 ways this year.  Farley is wearing Maggie's Tripawds Rule bandanna.  The brown bear on the right is holding a wiffle golf ball, Maggie's favorite toy.  And of course the hand made Tripawds ornament from Charon.  The bear holding the ornament is Henry, I've had him since I was christened.  For those keeping track that means Henry is over 50 years old!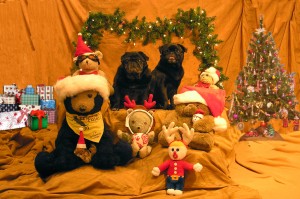 2012. This picture was taken at a fund raiser for the Pug Rescue group that Obie came from. That is Tani on the left and Obie on the right.  Maggie is represented by the Be More Dog tag I have, Tani is wearing it on her harness, but you can't see it in the picture.  It seemed like a good idea… but then Obie is afraid of strangers, and Tani hates to be held! The photographer asked me if he should wait to take the picture until Obie's tongue was in- I said we don't have that kind of time!! By the time we were done Tani had managed to get her harness half off.  I think Santa took a long break after us!