Maggie was born on this day in 1999, nineteen years ago. I'm not one who thinks a pup continues to age when they cross the bridge, Mag will forever be an eleven-year-old TriPug in my mind.
I was thinking back today about my life then, when I was anxiously awaiting the news that the litter had been born and everything was OK. Mag was my first Pug and my first dog in many years. She was coming to me from my Uncle Paul who had been breeding and showing Pugs for 20 years. My mom and I had been plotting to get a dog for my dad who had recently retired and needed more purpose in his life. When he said he didn't want a dog I thought, hummm, a Pug…
I got really excited thinking about a Pug puppy of my own. I did research and learned everything I could. I tortured myself looking at puppy pictures. As the due date drew near, I waited and waited and waited for the phone to ring.
Finally my mom called, she had heard from Paul and the litter was here! Two boys and two girls, they would save a girl for me. My Uncle Chuck, Paul's partner, sent me pictures every couple of weeks of the girl they picked out for me.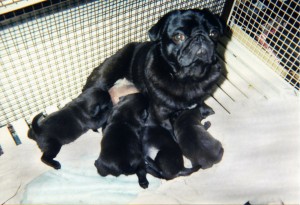 We made plans to travel down to LA to pick her up in early June. I had already picked out her name, Margaret, a character from a Shakespeare play. Paul was an actor and named all his Pug's after Shakespearean characters so I was honoring his tradition. I decided that I would call her Molly.
When we got to LA Paul was at work but Chuck was there. Before he introduced me to my new Pug he told me was that they had decided to keep the girl that they said they were going to give me. As the puppies grew she turned out to be the smaller and therefore more desirable (to them) pup. When Chuck handed her to me I instantly knew Molly WAS NOT her name! She was Maggie from the moment we met.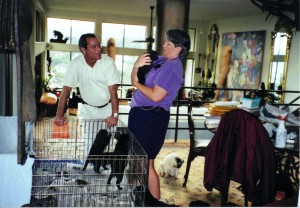 We stayed overnight and in the morning before we headed home I was signing paperwork with Paul, the normal stuff when you get a puppy from a responsible breeder. He wanted her registered with the AKC, I didn't care either way but it was important to him. While looking at the paperwork I noticed that the whelping date was in April. I told him they were born on March 26th. I was sure because I remembered where I was when Mom called me, we had thought it was cool that she was born near my brother's birthday as he had passed away a few years previously. Paul said no, they were born in April. Since I didn't really care about the AKC stuff I let it pass, but I decided we would always celebrate Mag's birthday on 3/26. Some months later I got a letter from the AKC saying that the registry for Mag's litter was on hold due to paperwork problems, which I found quite amusing. Paul must have fixed it somehow because Mag's littermate brother eventually got his AKC Champion Title in the show ring.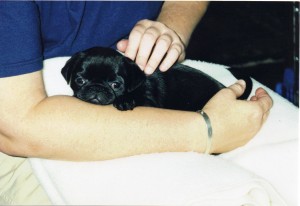 Chuck passed away in 2002, Paul in 2004. Since my mom inherited much of the estate we were tasked with cleaning out their house and getting rid of everything. I found all of Paul's AKC records and was once again amused when I found the original whelping cert for Maggie's litter with the date of 3/26/99!
So, to recap: I have pictures of the first 10 weeks of a puppy's life that is not the Pug I got, I was so sure her name would be Molly that I had a tag made with that name before we went to get her, her official birthday with the AKC, as far as I know, is in April.
None of that matters, it's the funny back-story of how we came together. Maggie was meant to come into my life and I am forever grateful.