Now I have decided that a separate page is not the place to post about missing Maggie, I will do it here on her main page.  Here is what I wrote a couple of days ago:
I let Maggie go three days ago on Wednesday June 2, 2010.  I have been thinking about updating her blog and our signature in the forums, but I'm not up to it yet.
I thought I would start a new page in our blog to detail this new part of my life's journey without Maggie.  I don't know how long I will post on this page, but I wanted a separate place to talk about losing my companion of 11 years and how Tani and I are adapting.
When I got home with Tani on Wednesday night the house seemed quiet.  It was an odd feeling because it was never that noisy with both of the girls around.  I guess I was just feeling the void left by Maggie's departure.  I immediately got rid of all of the bad stuff related to the last couple of months- I cleaned up the meds, got rid of the last bag of sub-Q fluids, and put away all the incontinence pads and rags I had strategically placed in all the rooms of the house.  I left her bowl, beds, and blankets out.  All of the toys remain too, Tani is the one who plays with most of them anyway.
Friday evening I took Tani for our first walk alone together since Maggie was recovering from her amp.  We ran into a couple of people we know at the park- well we know their dogs, I don't know most of humans names.  One of them looked at me walking only with Tani and she said "oh no", and gave me a hug.  Some things don't need too many words.  She lost her long time companion in March to lymphoma and is now trying to get used to her new young dog.
I know I did the right thing by Maggie on Wednesday, but that knowledge does not make it any easier or less sad.  All that will fix this is time.
Here are a couple of pictures I took last weekend.  The quality is not great because I used my cell phone.
This is Maggie at the park on Sunday, May 30th: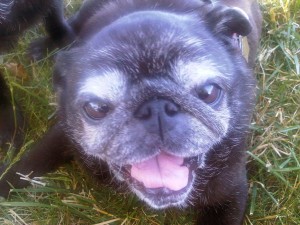 Actually the grass is in focus, I guess I need more practice with the camera.
This is a picture of Maggie with the Mag Tag from the set of RENT.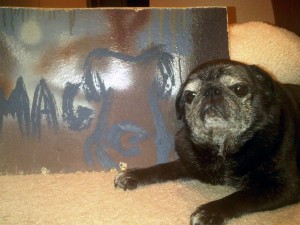 I helped build the set at the local College and the designer let me put this up.  Read the story in the original forum post.