In honor of Maggie's 11th birthday, and because she is such a cool pug, I am posting some pictures of Maggie through the years.  As I started looking at pictures I realized I would have to do installments, you can only look at so much cuteness at one time.
Here is the first installment- Maggie's life BT (before Tani).
Maggie has many facets to her personality – many influences melded her pugness in her early years- actors, cowboys, outdoorsmen, builders.  She was born in a big city, but grew up in the suburbs.  She was an only pug for a couple of years, then had to adapt to a little sister.
Maggie was born in the Hollywood Hills of Los Angeles, Ca on March 26, 1999, one of two girls in a litter of four. Although she didn't spend much time in LA she always maintained a bit of big city sophistication about her.  And this must be were the drama queen side of her came from.
That is Maggie on the left, her mom is Cordila.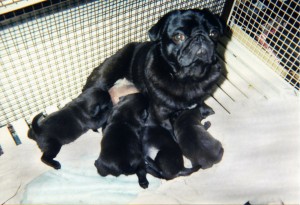 We went to LA to get her in June when she was 10 weeks old.  This is our first meeting at my uncle's house- that is my uncle Chuck on the left.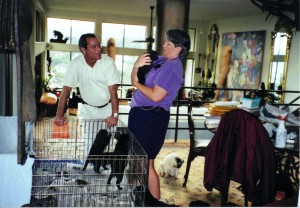 Mag was usually pretty confident and not too afraid of things, even though she weighed only 4.5 pounds at our first vet visit.  She was very playful, and VERY obstinate- a true pug quality.  She often liked to play with or drag around things bigger than her (what wasn't bigger than her?).  She once dragged an abalone shell through the dog door at my dad's house.  It was so heavy that when she picked it up she had trouble keeping her back feet on the ground!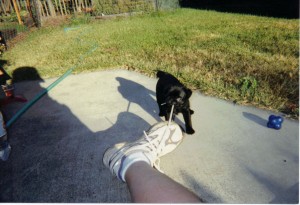 Maggie at 6 months old in a reflective moment with one of her then favorite toys- the red Kong.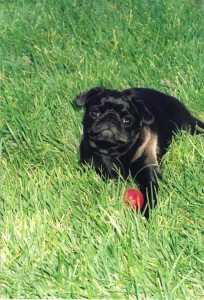 When she was about 6 months old I took her on a trip to Montana to my uncle Mike's ranch outside Bozeman.  The horses are lucky they are in the corral or who knows what a suburban pug might do…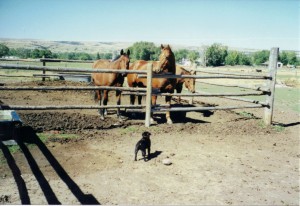 Around 10 months old she developed a drinking problem.  While Murphy's is OK, a true Irish pug must drink Guinness!!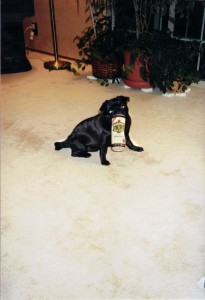 There is a great park and lake near our house that we used to take the pugs to all the time.  Although pugs don't tend to swim well Maggie always liked the water- and would swim sometimes to try and clear the debris out of the lake (aka pug Nessie).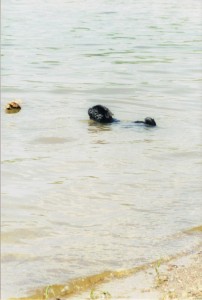 And her exits were always graceful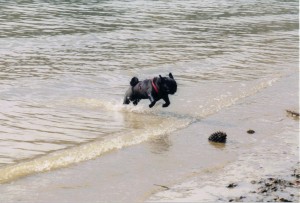 Several places in the park allow cattle grazing.  We had to keep her on a lead around them- she always wanted to get close.  I think she would have chased them if we let her. I'm not sure what the cows would do- can cows laugh?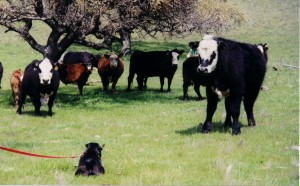 My dad and I like to do construction projects together.  We have built five decks, stair railings, that sort of thing.  Maggie has always been a good construction dog, getting in the way, barking at the power tools, and taking anything she could carry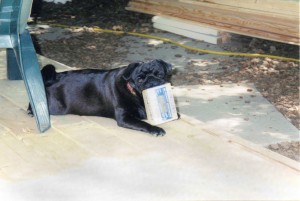 Mag is between a year and two years old in those last four pictures.
Next installment: Who said I need a little sister?