Barney came to visit us in Livermore, California from Gerry in Madison Wisconsin.  Read the whole story in the official Blog of KILLBARNEY:
http://killbarney.tripawds.com/
Since Maggie has not been her usual energetic self (for a pug),  Barney's visit turned into him just hanging out as part of the pug pack.
He had dinner with us, and took naps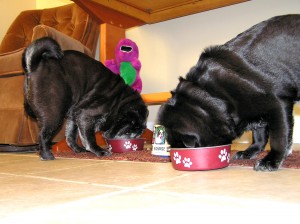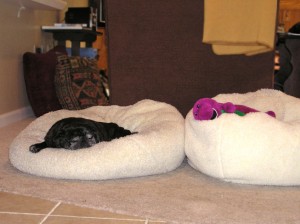 He went to the park with us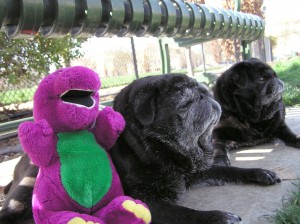 He arrived in time to watch the  Super Bowl (yea Saints!)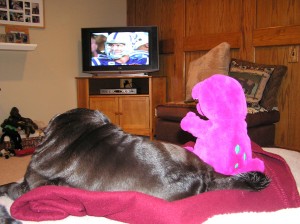 He checked out the toy box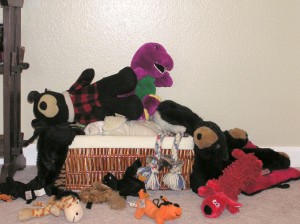 He met the wabbit of video fame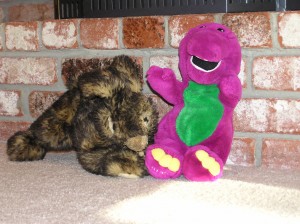 Maggie has always been very gentle with her toys- she showed Barney her first Beany-Baby pug she got when she was a few weeks old.  We have to put it away now because little sis Tani's mission in life is to find out what is inside toys…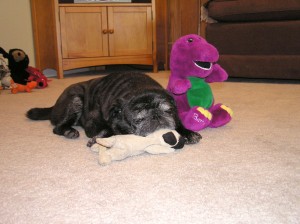 Mag thought it would be fun to see Barney in the angel wings that Caira Sue's dad Adam gave her-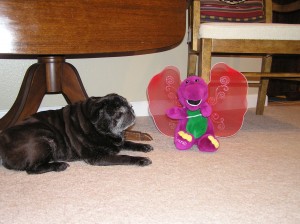 Mag says too bad they won't fit in the box…. but what would fit is Maggie's new harness.  She couldn't wear it until the stitches from the last tumor removal came out.  Now she can wear it but doesn't like it very much.  I think it looks great on her (my dad calls it her handle)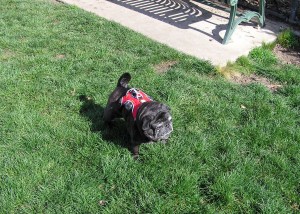 Mag tried to give it to Cemil at the last Tripawds Nor Cal meet up:   http://cemil.tripawds.com/
But that didn't work.  She really wanted Barney to have it, as her parting gift to him…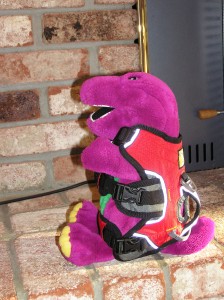 But we already got Barney a parting gift- something he will need where he is going next…
Barney was here through President's day weekend, and we got some really good early spring weather.
Here is Barney in the fountain at my parent's house (the pug girls second home)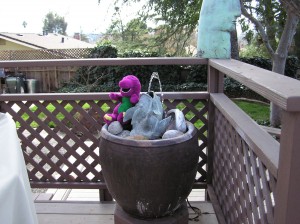 And looking west waiting for the sunset-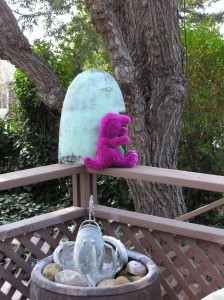 But no trip to California would be complete without some pool time.  So at the risk of perpetuating the stereotype of California in the winter, here is Barney soaking up some rays-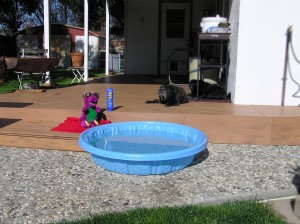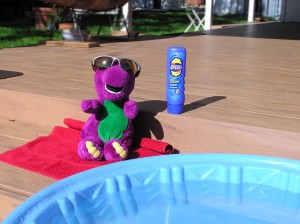 And yes that is SPF 30 sunscreen for his delicate purple skin.
I hope Barney enjoyed his California vacation.  I have a feeling that the next stop will get him back into the KILLBARNEY scene where he will have to fear for his little purple limbs!!