Today Tani turns 10, the first birthday she will celebrate without her big sister.  We reached the end of the Pug Girls era when I  let Mag go 3 weeks ago today.
On Maggie's 11th birthday in March I started a post with pictures of Mag's puppy hood called 'Maggie- the early years'  which took us right up to the point just before Tani came to live with us.  That was supposed to be my next post- "Who said I needed a little sister?"  It was John Lennon who said "Life is what happens while you are busy making other plans."
So now, three month later, I am posting a few pictures of the Pug Girls.
When Tani first came to live with us Maggie HATED her.  Whenever Tani touched her, even if just barley, Maggie would move away from her. Mag had been an only pug for her first two years, and I think in hindsight she was perfectly happy with that arrangement.  It was me, doing that silly human projection thing, thinking Mag was lonely.  After awhile Mag warmed up to Tani and the two kept each other company and they had lots of adventures together.
While the Girls always looked different to me, many could not tell them apart, especially when they were younger and both still very black.  Later on so many people didn't notice that Mag was a tri-pug  that when I introduced them I stopped saying Mag was the three legged one and instead said she was the one with the gray face.
The girls being very pug like in 2001, Mag on left:
Romping at the lake in 2001, Mag on left: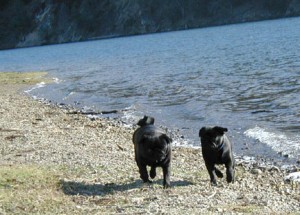 Playing with sticks in my parent's backyard 2001, Mag on left: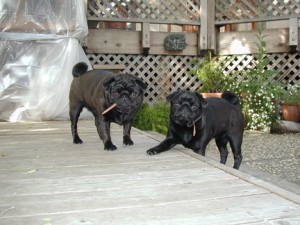 Frisbee! Mag on left (again):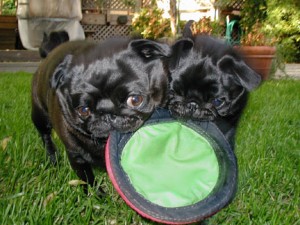 In the pool in my back yard,  Mag on right: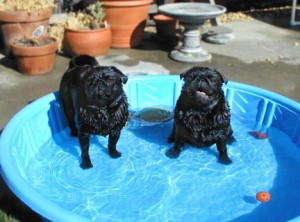 Sharing a nap in 2002, Tani on top: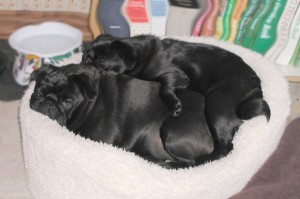 At the beach 2002, Mag in front: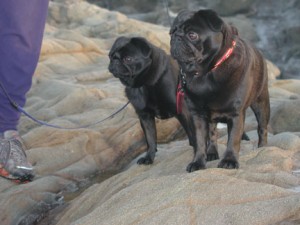 The pug sleep train 2003, Tani in front: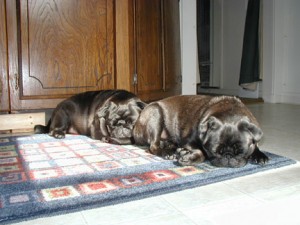 At the beach in 2004, Tani in front: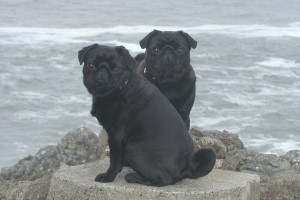 Napping on the back of my parent's couch 2004, Mag on right: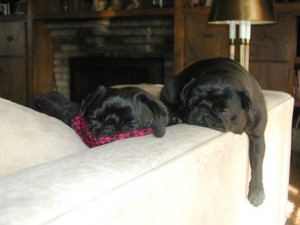 Sun drugged in my back yard 2004, Tani on right: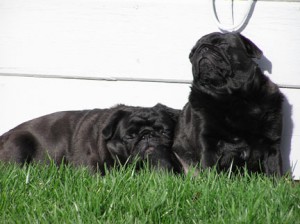 Sharing Mag's stroller 2006, Mag on right: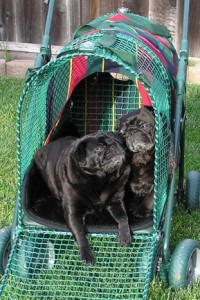 Pug's favorite past time 2007, Mag on right: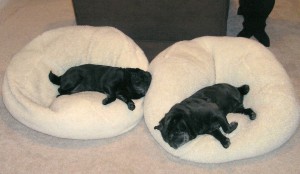 At the park 2007, Mag in front: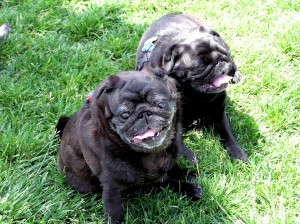 Barney, Mag and Tani at the park, 2010: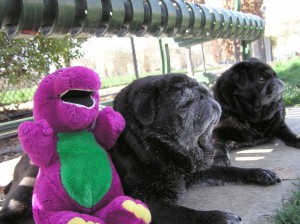 And here is one of the pug girls logos, the basis of the ' Mag Tag':