I got a package in the mail today from Maggie's Oncology Vet Hospital,  called Bay Area Veterinary Specialists or BAVS.  Mag had her amp surgery there and our Oncologist is there, Dr. Cecile Siedlecki.
I opened the package and found this book: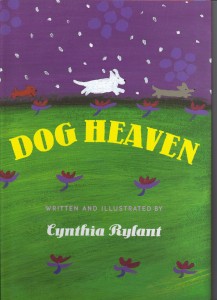 It is a book written to help children understand and cope with the loss of a dog. It is simply written with colorful illustrations.
When I opened the front cover I found this: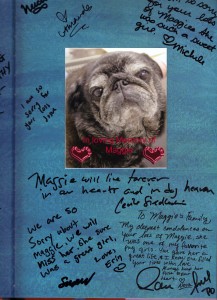 I took Mag to BAVS in March right after our regular vet diagnosed the melanoma tumor in her mouth.  We sat with  Cecile for close to a hour  discussing options and deciding on what, if any treatment to pursue.  Cecile has always been open and honest with me about Maggie's cancers and treatments.  She was completely supportive of my decision not to aggressively treat the melanoma at that point in Maggie's life.  After we were done talking Cecile took Mag in the back because she wanted to try and get a picture of the tumor in Mag's mouth.  I thought that it was a little strange since we were not going to treat the cancer.   I now know that she wanted to get a picture of Mag for this book.  At that point we both knew that it was Mag's last visit there.
In the book God makes biscuits for the dogs, and because he has a sense of humor he makes them in funny shapes.  He makes kitty-cat biscuits and squirrel biscuits and ham-sandwich biscuits.  My favorite are Ice-cream biscuits.