Here we are, 3 months without Maggie, and they have at times been very difficult months for me.  Not because she is gone, but because life sometimes just deals you and your family and friends some tough cards.  I miss her every day- but I have been fortunate enough to find a way to apply the lessons that Mag and her two cancer journeys have taught me.  Is there a reason that bad things happen in our lives?  I don't know that I can answer that, but what I do believe strongly is that you have to learn from all the experiences in your life- and often the hardest experiences teach the most profound lessons.
And so we continue, and find reasons to celebrate in our lives.  Obie has been with us almost two months.  His eye injury is healing, and he is starting to come out of his shell.  Tani is doing well, a bit more energetic since she dropped a little weight, and she is accepting and sometimes even showing interest in her new little brother.
I have finally framed and hung up the 'Mag Tag', along with a few things that are reminders of good times.  I originally painted it last March on the set of 'Rent', a show that I was helping to build.  You can read the original forum post here for the back story.  After the show ended my buddy cut it out when they were striking the set and saved it for me.  I got a picture of Mag with it which is the picture you see in the header here at Tripawds.com.  And now it hangs in my bedroom, a daily reminder to 'be more dog'!
Here is what the tag looked like on the set: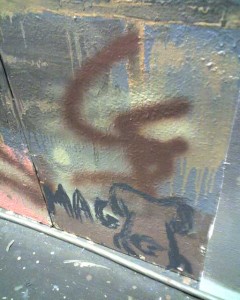 This is Mag with the tag: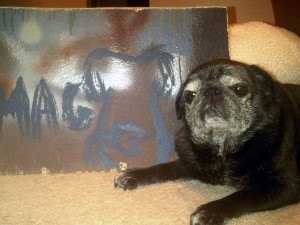 And this is the tag as it appears now in my bedroom: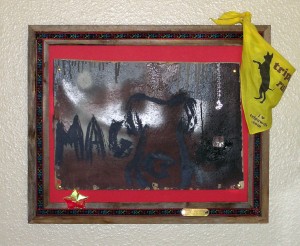 The trim is from Mag's last harness, the brass plate on the lower right has her name, etc.  The star on the lower left is from the angel wings that our pal Caira Sue's dad gave Maggie last January.  The charm on the right is a three paw charm with Mag's name on the back.
Here is a close up of the charm: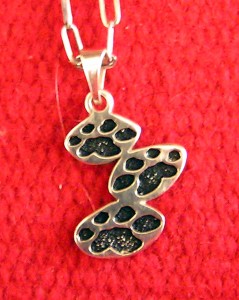 And of course Mag's Tripawds bandana, which she wore to the Monthly NorCal Tripawd meetups since she got it last November at our first meet up.  I have taken her bandana to each of the meetups I have attended since Maggie passed.
And here are Tani (left) and Obie with the Mag Tag today: